Add These Cancer Fighting Foods to Your Diet NOW!
It's no big secret that good food and good health go hand in hand. A healthy diet can prevent a number of diseases that tend to manifest with age. Whether you're looking to fight winter germs or reduce your risk of heart disease there is a wealth of information from doctors, researchers, naturopaths and more that can help keep you on track for a healthy future. In this post we'll be discussing food that is known to prevent and fight cancer, something that has most likely impacted you or someone you know.
A study published on October 22nd, 2018, in JAMA Internal Medicine found that people who consume high amounts of organic food have a smaller cancer risk. So, it's probably a good idea to start there in general. But what specific foods have been known to reduce the risk of cancer or help fight the disease post-diagnosis? We've listed a few below.
Berries
Strawberries and raspberries have a phytochemical called ellagic acid. This powerful antioxidant may actually fight cancer in several ways at once, including deactivating certain cancer causing substances and slowing the growth of cancer cells. In laboratory studies, this phytochemical has shown the ability to prevent cancers of the skin, bladder, lung, esophagus and breast.
The potent antioxidants in blueberries may have wide value in supporting our health, starting with cancer. Antioxidants may help fight cancer by ridding the body of free radicals before they can do their damage to cells. Blueberries also contain resveratrol, as well as flavonoids. Flavonoids are chemicals that may have antioxidant, anti-inflammatory, and antibacterial properties. A team of researchers discovered that adding blueberry extract to radiation therapy can significantly improve treatment efficacy in fighting against cervical cancer.
Tomatoes
Lycopene is responsible for giving tomatoes their red color. It's a cancer-fighting food associated with protection against certain cancers such as prostate, lung cancer and oral cancers. Some scientists believe lycopene bolsters the body's natural ability to kill off cells that are not developing properly. Its recommended that individuals consume processed tomato products such as juice, sauce, or paste. This increased the release of lycopene and allows for easier absorption, thus increase the cancer-fighting potential.
Beans
Beans beans they're good for the heart! They also come in handy when it comes to fighting cancer, too. Beans contain potent phytochemicals that may protect the body's cells against damage that can lead to cancer. In the lab these substances slowed tumor growth and prevented tumors from releasing substances that damage nearby cells. Beans are also rich in fiber. AICR's second expert report,Nutrition, Physical Activity, and the Prevention of Cancer: A Global Perspective, found probable evidence that foods containing dietary fiber, like beans, can decrease one's risk of developing colorectal cancer.
Cruciferous Vegetables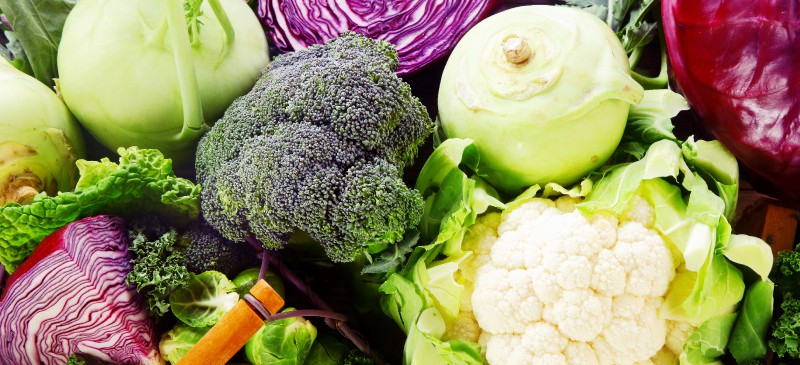 It's possible these may be the veggies you shied away from most as a child, but you need to start adding them to your diet fast! Cruciferous vegetables include broccoli, cauliflower, cabbage, Brussels sprouts, bok choy, and kale. Cruciferous vegetables contain compounds that have been shown to detoxify and remove carcinogens, kill cancer cells, and prevent tumors from growing. Cruciferous vegetables have been shown to be particularly effective in defending against cancers such as colon, breast, lung, and cervix.
Leafy Greens
Dark green leafy vegetables such as mustard greens, lettuce, kale, chicory, spinach, and chard have an abundance of fiber, folate, and carotenoids. These nutrients may help protect against cancer of the mouth, larynx, pancreas, lung, skin, and stomach. According to the American Institute for Cancer Research, "carotenoids seem to prevent cancer by acting as antioxidants – that is, scouring potentially dangerous "free radicals" from the body before they can do harm. Some laboratory research has found that the carotenoids in dark green leafy vegetables can inhibit the growth of certain types of breast cancer cells, skin cancer cells, lung cancer and stomach cancer."
Start Now!
We suggest adding these foods to your regular diet, but don't stop there! Incorporate exercise and LOTS of water to flush your system of harmful chemicals while also curbing your appetite so you aren't reaching for sweets when your energy dips during the day (and night!). Obesity is another sure sign you may experience health problems down the road, including but not limited to a variety of cancers. Do what you can to live a healthy well-balance life when it comes to your diet, physical activity, sleep and mental health. We know you can do it!
Leave a comment
Comments will be approved before showing up.